I Sverige har man fram tills nu haft den generella uppfattningen att dvärghamstrar är sociala djur som, till och med enligt lag, skall hållas i par eller grupp. Detta är en ganska udda syn om vi jämför med hur andra länder betraktar dessa arter. Att hitta svar från vetenskapliga studier om detta ämne är inte heller lätt!
Det finns väldigt få skrifter som berör den sociala strukturen hos vilda dvärghamstrar. Detta kan tyckas lite konstigt med tanke på hur vanliga de olika ändå är som husdjur. De få källor som tar upp ämnet motsäger ibland varandra, vilket gör det ännu svårare.
Jag kommer nedan att rada upp de kommentarer jag hittat om de olika arterna:
"Solitary"1
"In the wild, males and females meet only to copulate, then separate permanently"2
"In the wild Winter Whites live in family groups/colony's, and indeed in captivity this species can cohabit with their own kind"3
"Kan hållas I grupper men vuxna hanar bör ej bo tillsammans om de inte vuxit upp tillsammans"4
"In view of the naturally harsh environment of P. sungorus, one would predict that biparental care would be even more extensive in the field. In fact, we recently observed biparental care in individuals of this species maintained in a large outdoor enclosure under semi-natural conditions"5
"Highly social interactions between individuals complicated designations of independence for statistical analyses"6
In the wild, they create burrows like other hamster species and live solitary lives8
"Social behaviour between individuals and between mixed-sex pairs of Cricetulus griseus was observed in large floor pens. The species exhibited strong intolerance of conspecifics" "The absence of contact-promoting behaviour and preliminary warnings to attacks suggests a solitary, dispersed existence of C. griseus"9
"In its natural environment, the Chinese hamster is far less sociable than the Phodophus Dwarf hamsters. In captivity, it can be quite belligerent and intolerant of other hamsters"4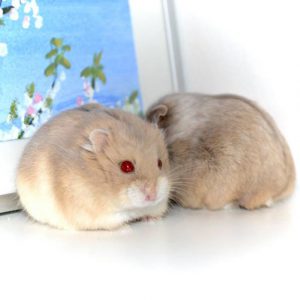 "Phodopus campbelli is generally classified as a solitary species. However, in captivity, Phodopus campbelli exhibits a high tolerance for other species members when sharing territory"7
"In the wild, a male P. campbelli spends time alone with a litter when the female is absent and provisions weaned pups in the natal burrow" (Wynne-Edwards, 1995)6
"Highly social interactions between individuals complicated designations of independence for statistical analyses"6
"Roborovski's desert hamsters are generally solitary, but may be found living in pairs while not rearing young. They are shy and meetings usually result in one hamster running to hide when the other approaches. Sociopositive behaviour towards each other includes investigative sniffing, sitting in contact and allogrooming. As with other dwarf hamsters, obligate monogamy is the likely mating system for Roborovski's desert hamsters. It is possible that females, of this species, like females of the closely-related Campbell's desert hamsters (P. campbelli), have a higher success in delivering litters when post-copulatory contact with the male is sustained"10
Hur uppfödare uppfattar arterna utifrån ett socialt perspektiv
De flesta uppfödare och erfarna dvärghamsterägare verkar överens om följande:
Rysk vintervit kan, om de är renrasiga, ofta trivas bra i par eller små grupper då de kommer från samma familj. De kan dock ha svårt att acceptera främmande könsmogna individer från andra familjer. Inom vissa avelslinjer är det vanligt att de börjar bråka vid könsmogen ålder och att de då måste separeras.
Kinesisk dvärghamster är allmänt betraktad som en solitär och revirhävdande art och att de bör hållas enskilt.
Campbells trivs ofta mycket bra i par eller små grupper om de är renrasiga men det finns även individer som mår bättre av att bo ensamma. Campbells verkar vara något lättare att hålla tillsammans i par/grupp än rysk vintervit.
Roborovskis talas ofta om som den sociala hamstern som trivs bra i grupp, men många har till sin besvikelse fått uppleva motsatsen. Det kan vara som med rysk vintervit, att det beror lite på avelslinjen.
Hybrider* Såhär skriver Svenska Hamsterföreningen om hybrider: Hybrider brukar kunna bråka lite oftare och därför till slut behöva bo var för sig – oftare än vad de rena arterna gör. Trots att två hybrider ju är av samma blandning, så kan de ha ärvt olika gener från sina föräldrar och pratar därför inte riktigt "samma språk", trots att de kanske till och med är syskon. Därför blir det lättare bråk mellan dessa.11
* Hybrider= Campbells och vintervita kan föröka sig med varandra och ger då upphov till en korsning som kallas för hybrider. En renrasig hamster har en stambokföring där man kan följa djuret fyra led bakåt i släkten och försäkra att den inte är av blandad ras, annars definieras den som hybrid. Alla hamstrar som säljs i zoobutiker antas vara hybrider, trots att butikspersonalen ofta hävdar annat.
Referenser
1 http://www.iucnredlist.org/details/17037/0
2 http://eol.org/pages/1179519/details
3 http://www.southernhamsterclub.co.uk/new/index.php?option=com_content&view=article&id=47:ww-hamster&catid=38:d-hams&Itemid=58
4 Sharon Lynn Vanderlip. Dwarf Hamsters: Everything about Purchase, Care, Feeding, and Housing. https://books.google.se/books?id=Y2b8D6t658gC&printsec=frontcover&hl=sv#v=onepage&q&f=false
5 KATHLEEN S. MATT, FRANCISCO BOZINOVIC and JOSEPH F. MERRITT (1994) Energetic costs of biparental care behavior in the Siberian dwarf hamster Phodopus sungorus Revista Chilena de Historia Natural 67: 309 -314 http://rchn.biologiachile.cl/pdfs/1994/3/Matt_et_al_1994.pdf
6 K. E. WYNNE-EDWARDS, A.V SUROV, AND A. YU. TELITZINA (1999) DIFFERENCES IN ENDOGENOUS ACTIVITY WITHIN THE GENUS PHODOPUS. 80(3):855-865 http://jmammal.oxfordjournals.org/content/jmammal/80/3/855.full.pdf
7 http://animaldiversity.org/accounts/Phodopus_campbelli/
8 http://animals.mom.me/kind-environment-chinese-hamster-live-in-1454.html
9 Margaret H. Skirrow, Milada Ryšan (1976) Observations on the social behaviour of the Chinese hamster, Cricetulus griseus. Canadian Journal of Zoology, , 54(3): 361-368 http://www.nrcresearchpress.com/doi/abs/10.1139/z76-040#.V6h6DPmLQdU
10 http://animaldiversity.org/accounts/Phodopus_roborovskii/
11 http://www.hamsterforeningen.se/v%C3%A5ra-arter/dv%C3%A4rghamster/hybrider-7803911